The restaurant
For 40 years, Bistro-mer has specialised in seafood and been a household name in The Hague. Bistro-mer is located on Javastraat (Archipel/Willemspark) and can be recognised by the oyster cart in front of the door and attractive display window filled with fresh fish and seafood.
As you enter the building, you immediately imagine yourself in Paris, thanks to the timeless interior in Art Deco style with matching ambiance, where both local and international guests feel right at home. You are welcomed by our friendly staff which, together with our experienced kitchen crew, ensures a tasteful and memorable experience.
We invite you to be our guest at Bistro-mer for a light lunch,
business meeting or multi-course dinner. We hope to serve you soon!
On the menu
The dishes on our extensive menu are prepared fresh daily using various techniques in traditional French style. Our menu has remained the same for 40 years.
We offer delicious dishes such as bouillabaisse, sashimi, parillada, Coquilles St. Jacques and Sole á la Meunière.
Depending on the season, Bistro-mer also often offers an additional menu with dishes made from seasonal products
We also have a regularly changing 3-course menu for € 37.50
Specialties
Oysters & Fruits de mer
Bistro-mer has a very broad selection of fresh oysters, including Gillardeau, Belons, Joguet and Fines de claires from Bretagne and flat Zeeland oysters supplied by Chateau L'eau/Ron Reitsma.
Our fruits de mer plates are varied and beautifully put together with lots of fresh oysters and seafood.

Seasonal dishes
We serve delicious Zeeland mussels, grilled or à la marinière € 24,50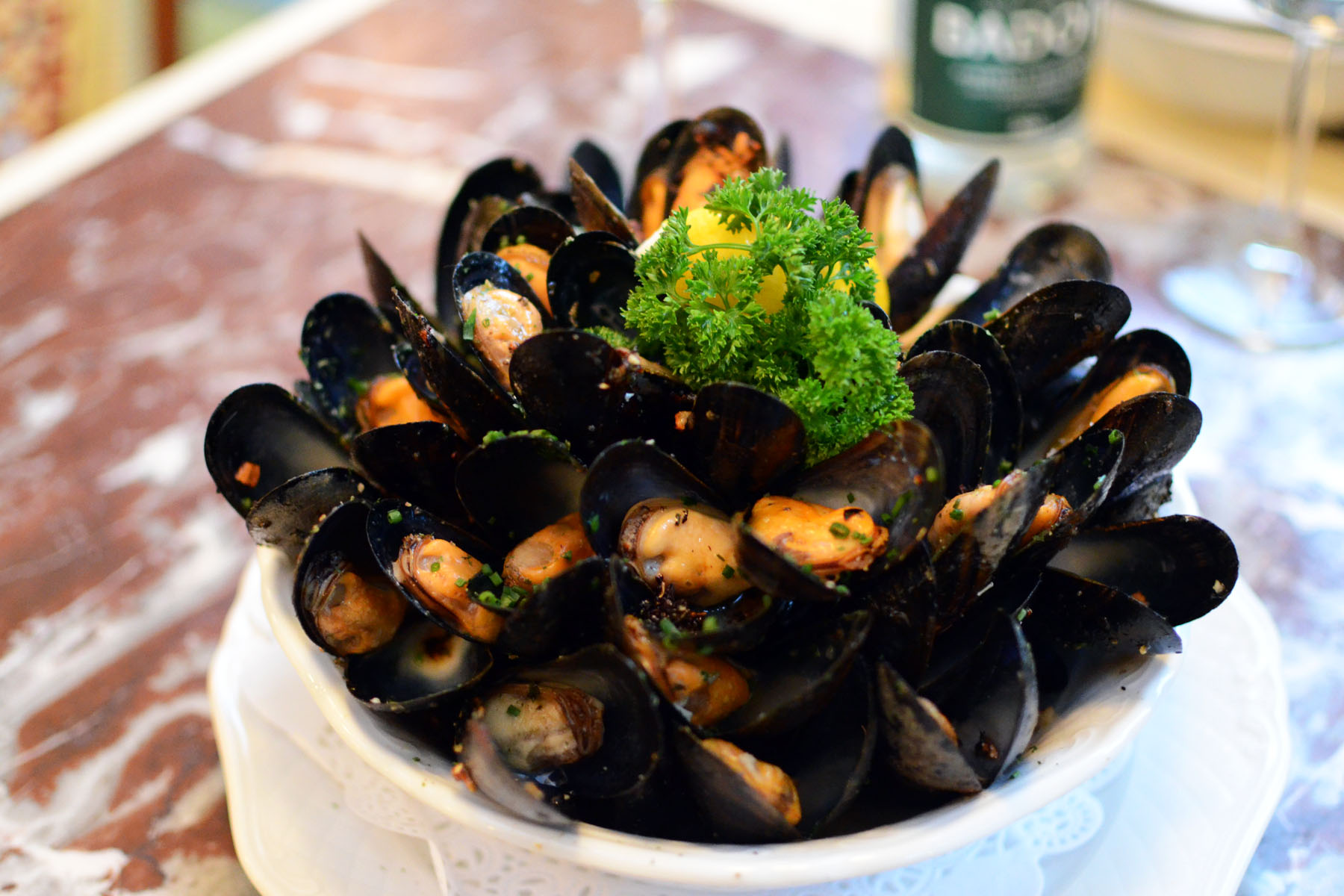 Our wines
Our wine menu contains mainly French wines, including wines from a number of famous wineries like Domaine Ott and La Doucette.
We also serve several organic wines, including Picpoul de Pinet and a Muscadet.
Our champagne is from the oldest winery in France, Ruinart.
We also serve 'new world' wines, like the delicious Bernardus from California and an excellent Sauvignon from New Zealand (Marlborough).
Parties
Bistro-mer is a favourite location for lunches and dinners for large groups, ranging from 10 to 40 people. We can put together one large, beautifully set table in our sun room. The front section of the restaurant can accommodate a party of 50. If desired, you can also rent out the entire restaurant.
In the sun room, you can hold a meeting over lunch or dinner without any disturbances. We can put together special menus and, if desired, Bistro-mer can be decorated for any occasion, like a wedding or a business event.
Catering
Bistro Mer also takes care of your culinary wishes on location.
For more information, contact us at 070-3607389
Oyster express
Bistro mer delivers oysters at any desired location in the The Hague region, for any desired occasion, business or personal. Think of birthday, company party, wedding and of course just for home.